20 Foot Refrigerated Cargo Containers


20 Ft REFRIGERATED CARGO CONTAINERS FOR RENT
DRYBOX provides clients in Oregon and Washington with dock height 20′ refrigerated cargo containers that are designed to last! Our refrigerated cargo containers function cleaner and for less money than the other refrigerated trailers on the market.  The Carrier™ Cooling system in our refrigerated cargo containers allow you to keep your goods at a constant temperature. The durable floor construction in our refrigerated trailers are made of aluminum T-rail  and will stand up to fork lifts and pallet jacks.
HIGHLIGHTS
20′ REFRIGERATED CONTAINER
Ground level entry

Run on all electric Carrier™ Cooling System
(

see requirements

)

Fully insulated, seamless stainless steel walls rated equal to R31

More accurate temperature control from -10°F to +80°F

Environmentally friendly

Quieter operation

No need to worry about diesel spills
FEATURES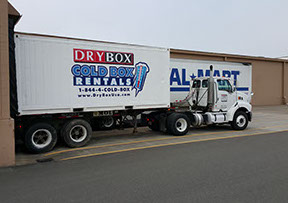 FEATURES OF OUR 20′ 

REFRIGERATED CARGO CONTAINERS
1,280± cubic feet of usable space

Cargo doors for easy access

500V, 3ph @ 60 Hz ±2.5%

3rd party pre-trip certified

Minimal maintenance requirements

Environmentally friendly

USDA certified for food storage
DELIVERY
PREPARING FOR THE DELIVERY OF YOUR 40′ DOCK HEIGHT REEFER
Be sure that you have level ground

Ask your rep how much space you need

Be on site & have your cell phone 

The driver will call when close

Monthly rental fee does not include 

delivery or pick-up, so be sure to ask the cost of both

Our knowledgeable team will make sure 

that your reefer is set up and operational

If you have any problems after delivery, 

please contact us, we can help trouble shoot.